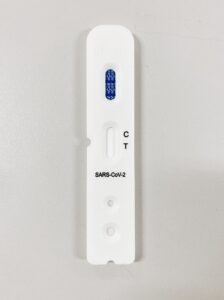 What are antigen tests?
These types of tests are rapid tests that detect antigens, where proteins are found on the surface of the virus.
They have a very high degree of specificity and sensitivity, which is why, as long as it is carried out by a qualified healthcare professional, and the results are reflected in a certificate with all the necessary requirements, it is therefore valid for traveling to a large part of the countries. from within the European community, without the need for a PCR test and at a much more economical price.
They are useful for identifying people who are at the peak of infection, when they are highly contagious.
How are they done?
The procedure is quite simple
The healthcare personnel will take a sample from the nasopharyngeal region (through the nose) with a swab, this sample will be mixed with a reagent that releases specific viral proteins and then it will be put it in a cassette that contains an antibody that binds to those proteins (in case they are present in the sample).
If, after 15 minutes, a single line appears on the cassette (the control line) it means that the test was performed correctly and that it is negative, however, if two lines appear, it means that the result is positive.
At Doctor Mallorca® we use only two globally known and highly prestigious brands, Abbott® (Panbio: sensitivity 97.9% and specificity 99.4%) and Roche® (Biosensor-Roche: sensitivity 95.5% and specificity 99.4 %), both meet the European criteria.